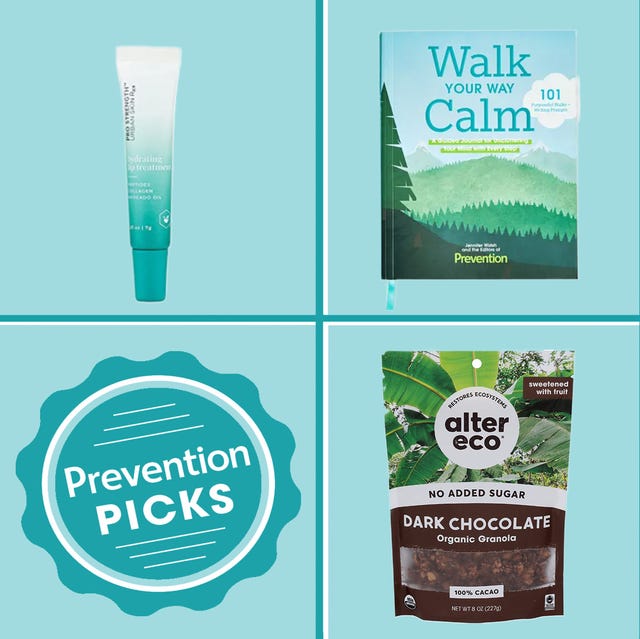 Amazon
At Prevention, we take pride in picking the best products for our readers. Our mission has always been to highlight top-rated, expert-backed selections that truly solve a problem for you, make your day easier, or bring joy to your life. That's why we curate Prevention picks each month, where our editors hand-select products that have genuinely made a difference in their lives. From brand-new launches to tried-and-true favorites, we shout out beauty products worth your money, fitness gear that will elevate your workouts, convenient gadgets for your home, tasty snacks that stand out from the rest, and so much more.
This month, we're doing our best to get through the winter blues with hydrating, soul-satisfying selects. We're keeping our skincare, diets, and overall lifestyle routines in check—using only the best products, of course. In our roundup, you'll find a rich moisturizing and cooling cucumber gel facial mask that soothes and calms the skin, a pair of comfy suede neoprene sweatpants (that are equal parts stylish and lounging-approved), and for those looking for a new snack: thinly coated milk chocolate peanuts that aren't secretly loaded with extra sugar.
We've also discovered a handy dandy shower tool that removes hair from the drain easily (your family will be happy), a hydrating eye cream that delivers instant results thanks to its nutrient-packed ingredient list, and lovely-smelling candles that will warm up an entire room with a beautiful rose and cedarwood fragrance. Below, check out our 14 favorite finds and stock up before they sell out!
Advertisement – Continue Reading Below
1
Awaken Peptide Eye Gel
There are very few eye creams I've tried that deliver immediate results and actually reduce undereye puffiness and bags, but the new caffeine and peptide eye gel from Dermalogica does. I smoothed it all around my eyes in the morning when the area looked especially tired and couldn't believe the instant smoothing and depuffing effect. My eyes looked noticeably better and now it's my go-to on mornings after I haven't had a lot of sleep or when my eyes are irritated. Magic!
—April Franzino, Beauty Director
2
Revolutionary Tub Drain Protector/Hair Catcher
This little thing has saved me so much angish! One of my 17-year-old boys is channeling a hippie lifestyle with his almost-waist-length hair. Needless to say, the shower drain is suffering because of this. But the TubShroom has come to my rescue! It snares all of his very long hair for easy removal so I can avoid using nasty chemicals or expensive plumber visits to unclog the tub drain. …And now we are a happy family!
— Sue Kakstys, Assistant Managing Editor
3
Hydrating Lip Treatment
This lip treatment is a must-have for the cold-weather season. Its formula is packed with nourishing ingredients like peptides, avocado oil, collagen, squalane, and vitamin E. As soon as I apply this product all over my lips it immediately soothes and repairs my, dry, chapped skin. It really is the best!
—Shauna Beni, Associate Ecomm Editor
4
Walk Your Way Calm
I'm so excited to share this book that we've been working on for Prevention! We are such huge fans of walking here because of how good it is for your body and soul. The 101 guided wellness walks were created by Jennifer Walsh, who always finds something new and wonderful to celebrate about walking. There's also a walking journal in this pretty volume, so you can track when and where you walk—as well as how you feel. This is a must-have for walking lovers.
— Sarah Smith, Editor-in-Chief
5
Peanut Butter and Jelly Peanuts
Nuts are my go-to snack, and when I'm in the mood for something sweet, all the better if they're covered in chocolate. But the coating is almost always too thick, which means I'm eating a lot more sugar than I want or need, so I feel as though I am zeroing out any health benefit from the nuts. That's why I happy-danced when I saw that SkinnyDipped has a line of chocolate- and other-stuff-covered nuts that are thinly coated, so you get the hit of sweet without too much sugar.
I've loved their Cocoa Almond and Milk Chocolate peanuts, but my favorite right now is the Peanut Butter & Jelly peanuts…crunchy Virginia peanuts with a thin layer of slightly tart strawberry coating. An ounce has only five grams of added sugar and nothing artificial. I could find no similar strawberry nut product, so for a comparison, check out Skinny Dipped Dark Chocolate almonds, which have just six grams of sugar per ounce (around 16 nuts); Hershey's Brookside has 17g for only 10 nuts. I'm too busy snacking to do the math, but you can see it's no contest.
—Stephanie Dolgoff, Deputy Director, Health Newsroom
6
Gold Under Eye Patches
When I first got my hands on these, I thought they were just pretty. But turns out they're miracle workers, too. Yes, the gold foil outer layer looks super luxe, but the hyaluronic acid-filled bottom truly works wonders. I've incorporated them into my Sunday self-care routine and have to say I can see a difference. My under eyes look brighter, my skin is super hydrated, and it doesn't irritate my sensitive skin. Win-win!
—Emily Goldman, Senior Editor
7
Gentle Pressure Sleep Mask
As someone who has trouble falling asleep, I was looking for a way to get better rest. Weighted blankets have been my go-to back when I'm on the east coast, but since moving to an island, I couldn't travel with my blanket. So I decided to invest in this weighted eye mask, and it has been a game-changer for both my sleep and anxiety. The sleep mask offers gentle pressure that helps relieve tension and block out light. I put it on before bed or while traveling, and it really helps me tune inward to get better rest.
— Nicol Natale, Freelance Editor
8
Triple-C Brightening Bounce Cream
I've been testing this new facial cream as my daytime moisturizer recently and actually look forward to applying it, thanks to its fluffy, whipped cream-like texture and delicious cherry-citrus scent. Such a nice pick-me-up on cold winter mornings! Vitamin C can sometimes irritate my sensitive skin, but this hasn't caused any inflammation. Over time, I've noticed my skin looks more even and clear, too.
—April Franzino
9
Cucumber Gel Mask Extreme De-Tox Hydrator
These frigid winter months have not been kind to my dry skin. Despite moisturizing at night, I often wake up to a parched complexion peppered with red patches. Thankfully, this mask comes to my rescue every time. Just a few minutes after application, my skin feels soothed, balanced, and rehydrated, and most redness has diminished. I honestly don't know what I'd do without it.
—Kayla Blanton, Freelance Writer
10
Cicaplast Balm B5
This multipurpose cream is truly a dry skin superhero. I started using this cream while on a course of Accutane, which severely dries and dehydrates the skin. Now that I am trying out Retin-A, I have returned to my tried and true skin saver. I apply a small amount directly after my usual moisturizer, and I feel as though my skin just drank a big glass of water! Grab this holy grail hydrator to soothe any dryness or irritation your skin might be experiencing.
— Shannen Zitz, Editorial Assistant
11
Hudson Joggers
These pants are so comfy—whether you're doing yoga, weight-lifting, or just lounging around the house. On a cold day of skiing, I'll even add them as an extra layer between my leggings and snow pants. I have long legs so they don't go all the way to my ankles (which I like). The most surprising aspect about these joggers, though, is the waistband, it's wide so it stays in place without digging in. I need them in more colors!
— Kaitlyn Pirie, Senior Editor
12
Dark Chocolate Granola
You may know the company Alter Eco for their amazing dark chocolate—recently, the company branched out into excellent granola with healthy bonafides. And yes, one of the flavor choices is chocolate! The other two I've tried are cinnamon raisin and cashew butter, and all three are super-tasty. Granola tends to be loaded with sugar, but these are sweetened with monkfruit, with four to six grams, and none of that is added sugar. Plus, it's certified organic, with no additives. The company is green and clean: They use small-scale, fair trade farmers, and are mindful about packaging and waste. Deliciousness you can feel good about!
—Lisa Bain, Executive Director, Health Newsroom
13
Cedar Glass Candle
With young kids at home, I took a break from lighting candles for a little while, for fear of them knocking them over, forgetting to blow them out—all the things. But this candle from Jenni Kayne reminded me why I love lighting candles in the first place. The cozy fragrance is perfect for winter months; it's warm yet romantic, with notes of rose, tobacco leaf, fir needle, and cedarwood. While I may not have a fireplace to cozy up in front of, lighting this candle is the next best thing.
— Dori Price, Freelance Beauty Editor
14
Bottle Filtered
When I first heard about the LARQ water bottle, I figured it would just be another water bottle, but I am so obsessed with it! There's a filter inside the straw, so I can fill it up anywhere at any time for clean water. The water itself tastes so crisp, and the straw is really comfortable and seamless to drink through even though it's filtering every sip. I also love that it's lightweight, so I can bring it with me, and the included carabiner is great for carrying or clipping to a backpack. Plus, I feel like I'm drinking way more water than I did when I just had a glass next to me. I can't recommend it enough!
— Arielle Weg, Associate Editor
This content is created and maintained by a third party, and imported onto this page to help users provide their email addresses. You may be able to find more information about this and similar content at piano.io
Advertisement – Continue Reading Below
.