Samsung's new Galaxy S22 models are some of the fastest Android smartphones ever, but Apple still has the world's fastest mobile processor by a considerable margin.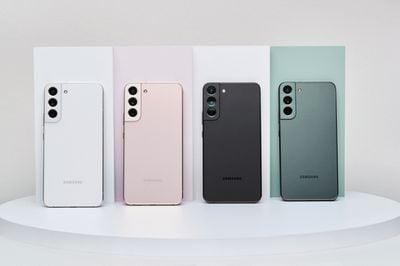 In a Geekbench 5 benchmark test conducted by PCMag, the Galaxy S22 Ultra with Qualcomm's Snapdragon 8 Gen 1 processor achieved a multi-core score of 3,433, compared to 4,647 for the iPhone 13 Pro Max with Apple's A15 Bionic chip. Based on these results, the iPhone 13 Pro Max is around 35% faster than the Galaxy S22 Ultra for CPU performance.
In the United States, all Galaxy S22 models are equipped with the Snapdragon 8 Gen 1, but models sold in Europe use Samsung's Exynos 2200 chip. Geekbench 5 results for the Exynos 2200 models still have multi-core scores in the mid-3,000s, however, so iPhone 13 models maintain a considerable lead in performance.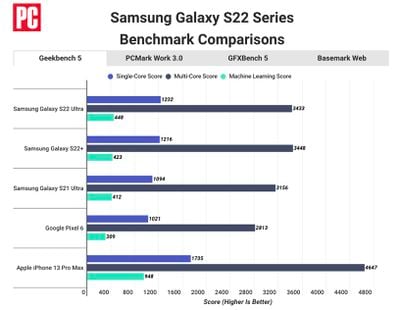 PCMag also ran Geekbench ML for machine learning performance and the iPhone 13 Pro Max achieved a score of 948, over double that of the Galaxy S22 Ultra, which came in at 448. Apple's A15 chip features a new 16-core Neural Engine capable of 15.8 trillion operations per second for machine learning tasks such as on-device Siri processing.
Apple will look to extend its lead in performance later this year with an even faster A16 chip for the iPhone 14 series.
Related Stories
Four Takeaways From Samsung's Galaxy S22 Event for Apple Users
Samsung today announced its new lineup of Galaxy S22 smartphones, Galaxy Tab S8 tablets, and more. We've put together a list of key takeaways for Apple users looking for a high-level overview of the competition's latest offerings. The Galaxy S22 and S22+ have virtually the same design as the previous S21 models. The 6.1-inch and 6.6-inch devices offer iterative updates, including improved…
Apple Lowers Value of Android Smartphones for iPhone Trade-In
Apple today reduced the estimated maximum dollar amounts that customers can receive when trading in several different Android smartphones for an iPhone. Apple also adjusted trade-in values ​​for certain iPad and Mac models. On its website, Apple displays the highest possible amount a customer can get when trading in a specific device for an Apple product, such as an iPhone, iPad, Mac, or Apple …
Samsung Pokes Fun at iPhone 12 Pro Max's Lack of 100x Digital Zoom in New Ad
In a new ad, Samsung is poking fun at the iPhone 12 Pro Max's lack of 100x zoom compared to its flagship Samsung Galaxy S21 Ultra. In an ad posted late last week titled "Space Zoom," an iPhone 12 Pro Max and Samsung Galaxy S21 Ultra can be seen taking a photo of the moon in total darkness. The iPhone 12 Pro Max zooms in at its max 12x ability, while the Samsung Galaxy S21 Ultra gets a closer …
Samsung Galaxy S22 Lineup Gets First In-Depth Closeup in Unboxing Video
Tech YouTuber Unbox Therapy recently shared a video looking at reputed dummies of Samsung's forthcoming Galaxy S22 lineup, corroborating earlier leaks that suggest it will again consist of three sizes to compete directly with Apple's latest devices, the iPhone 13 mini, iPhone 13/Pro, and iPhone 13 Pro Max models. From right to left: Samsung Galaxy S22, S22 Plus, and S22 Ultra (credit: Unbox …
Samsung to Unveil New Flagship Smartphones at February 9 'Unpacked' Event
Samsung is set to hold its first "Unpacked" event of the year on Wednesday, February 9, and the South Korean company is expected to unveil new flagship smartphones that will compete with Apple's iPhone 13 and iPhone 13 Pro models released in September. "Join us as we break the rules to set the epic standard," reads Samsung's tweet about the event. An included graphic references the S22,…
Intel Says New Core i9 Processor for Laptops is Faster Than Apple's M1 Max Chip
Intel today unveiled new 12th-generation Core processors suitable for laptops, and as part of the announcement, it claimed that the new Core i9 is not only faster than Apple's M1 Max chip in the 16-inch MacBook Pro, but is the fastest mobile processor ever. The new Core i9 features a 14-core CPU with six performance cores and eight efficiency cores, while the 10-core M1 Max chip has eight…
Additional Benchmarks Reveal A15 Bionic Performance Improvements in iPhone 13 and iPhone 13 Pro
Earlier today, we reported on a Geekbench Metal result for the iPhone 13 Pro showing an approximately 55% graphics performance improvement compared to the iPhone 12 Pro. Since that time, additional Geekbench results for both CPU and GPU performance across the iPhone 13 lineup have surfaced to provide a more complete look at the improvements. On the graphics side, a Metal result for the…
Popular Stories
Everything New in iOS 15.4 Beta 2: Face ID Updates, Tap to Pay Code and More
Apple today seeded the second betas of iOS 15.4 and iPadOS 15.4 to developers for testing purposes, and while there aren't as many new features as we got in the first betas, there are some notable additions and changes worth highlighting. Tap to Pay on iPhone With the second beta of iOS 15.4, Apple introduced support for the "Tap to Pay on iPhone" feature that is designed to allow…
Safari Team Asks for Feedback Amid Accusations That 'Safari Is the Worst, It's the New IE'
Apple's Safari and WebKit team has asked for feedback on Twitter amid criticisms of the browser's bugs and missing support. Jen Simmons, an Apple Evangelist and developer advocate on the Web Developer Experience team for Safari and WebKit, Tweeted that "Everyone in my mentions [is] saying Safari is the worst, it's the new IE." This led her to ask users for feedback, preferably highlighting…
Apple Releases iOS 15.3.1 and iPadOS 15.3.1 With Security Updates and Bug Fixes
Apple today released iOS 15.3.1 and iPadOS 15.3.1, two minor updates to the iOS and iPadOS operating systems released in September 2021. iOS and iPadOS 15.3.1 come two weeks after the release of iOS and iPadOS 15.3. The iOS 15.3.1 and iPadOS 15.3.1 updates can be downloaded for free and the software is available on all eligible devices over-the-air in the Settings app. To access the new…
Apple Hit With Class Action Lawsuit Over 'Jelly Scrolling' on iPad Mini
Colorado resident Christopher Bryan on Wednesday filed a class action lawsuit against Apple that accuses the company of fraudulently marketing and selling the sixth-generation iPad mini despite being aware of a so-called "jelly scrolling" defect with the device, according to court documents reviewed by MacRumors. A few days after the sixth-generation iPad mini was released in September, some …
Tesla Design Chief on Apple Products: 'There's Nothing to Look Forward To'
Tesla design chief Franz von Holzhausen recently commented on Apple's design principles and product launches, lamenting that Apple doesn't deliver something "to look forward to." During a podcast interview with Spike Feresten of Spike's Car Radio (via iPhone in Canada and Sawyer Merritt), Holzhausen said that Apple's devices are "just a continuation" and a "slight refinement on the same…
CalDigit's New Thunderbolt 4 Dock for MacBook Pro Features 18 Ports
CalDigit today introduced its new Thunderbolt Station 4 dock with 18 ports, which it claims is the most on any Thunderbolt dock ever. The dock features three Thunderbolt 4 ports, with one of them providing up to 98W of pass-through charging to compatible Macs, including the latest 14-inch and 16-inch MacBook Pro. The dock is also equipped with three USB-C ports (3.2 Gen 2), five USB-A ports…
Apple Announces AirTag Updates to Address Unwanted Tracking
Apple today announced that it is making some updates to AirTags with the aim of cutting down on unwanted tracking. There are several changes that will be implemented in a multi-phase rollout. In an upcoming software update, Apple plans to implement new privacy warnings that will show up during AirTag setup to thwart malicious use. The warning will make it clear that the AirTag is linked to…
.