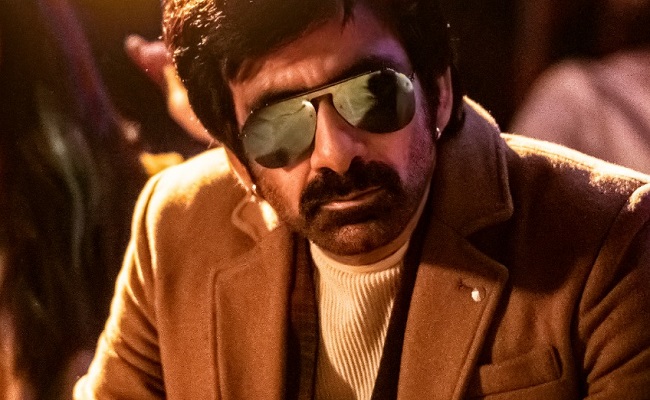 Movie: Khiladi
Rating: 2/5
Banner: A Studios, Pen Studios
Cast: Ravi Teja, Arjun, Dimple Hayathi, Meenakshi Chaudhary, Anasuya, Murali Sharma, Vennela Kishore, Rao Ramesh, and others
Writers: Srikanth Vissa, Sagar
Music: Devi Sri Prasad
DOP: Sujit Vaasudev, GK Vishnu
Editor: Amar Reddy
Director: Ramesh Varma
Release Date: Feb 11, 2022
Ravi Teja is back in form with the success of "Krack". His latest action entertainer "Khiladi" directed by Ramesh Varma and produced by Satyanarayana Koneru has carried huge buzz, thanks to vigorous promotions.
Touted to be the most expensive film in Ravi Teja's career, "Khiladi" also hit the screens in Hindi. Let's find out the film's merits and demerits.
Story:
Mohan Gandhi (Ravi Teja) is serving jail on the charges of killing his wife (Dimple Hayathi), and in-laws. He is accused of stashing money worth Rs 10,000 crores, which belongs to the Home Minister.
A psychology student Pooja believes that he was wrongly framed and brings Mohan Gandhi out of jail on bail. But is Mohan Gandhi innocent?
Why is CBI officer Arjun (Arjun) hunting Mohan Gandhi?
Artists' Performances:
Ravi Teja has played many such roles in the past. This time, his attempt to generate entertainment from this soulless character falls flat. He looks cool in designer dresses, but beneath that appearance, nothing works out.
Dimple Hayathi is a sizzler. She has tried to attract the audiences with her dare bare outfits from bikini to saree. She has also got more songs than another heroine Meenakshi Chaudhary.
The other female lead Meenakshi Chaudhary gets more prominence in the second half.
Anasuya also sizzles in a glamor avatar in the second half.
Action King Arjun has played a routine role of a cop who hunts the hero. Vennela Kishore and Murali Sharma are okay.
Prominent actors like Unni Mukundan, Mukesh Rishi, Niktin Dheer, Sachin Khedekar, and Thakur Anup Singh are featured in stock roles.
Technical Excellence:
Devi Sri Prasad has composed songs to follow the image of Ravi Teja. "Catch Me" and "Full Kick" are the best among the mass numbers.
GK Vishnu and Sujith Vasudev have captured the action stunts and various locations in rich frames. The lavish production values ​​are the main highlight. The dialogue and screenwriting are formulaic.
Highlights:
Production values
Glamor show of heroines
Drawback:
Illogical plot
Directionless narrative
No emotions or entertainment
Twists for the sake of twists
Analysis
Unless a filmmaker brings some novelty to the board, the stories of hero-playing have become a tiresome watch to the audiences. "Khiladi" is the latest addition.
In "Kick", Ravi Teja played Robin Hood, which worked big time. In "Khiladi", there is a scene that spoofs "Kick", and gives a twist to it. Yes, there are many twists in "Khiladi". By the end of the film, you get confused as to which was real, which was fake.
Twists are a common feature in con artist films. But here, they appear for the sake of it. And most of them are laughable.
It tries to follow the pattern of Bollywood's "Race" franchise movies in terms of providing twists and turns, but they have not worked out here.
The film begins interestingly by revealing Ravi Teja as a prisoner and then focusing on Ravi Teja's flashback – how he fell in love with his wife and how he ended up in jail.
The first half of the film runs on the usual romantic thread between Ravi Teja and Dimple Hayathi. Although the attempt to generate entertainment fails, the director succeeds in the first half with the sprinkling of glamor and catchy songs. Soon the film comes to the real twists, and tricks of the hero, and expectedly the drama completely derails thereafter.
When the basic plot is an amalgam of plenty of copied scenes of Bollywood and Hollywood movies, how does it not go wrong?
Logic has completely gone for a toss in the whole scheme of snatching Rs 10,000 crores. One person bags 10,000 crores, but the notes turn out to be fake, another one gets the amount, but it goes out of his hands, and again it is shown the money is also fake, and the cycle goes on and on. The directionless plot and overstuffed narrative confuses the audiences.
Despite boasting colorful songs, glamorous heroines, and rich production values, the whole exercise looks silly. Mainly because the protagonist is neither a hero, one can root for, nor does the story have an emotional core.
"Khiladi" has a tagline of 'play smart', but the film doesn't boast any smartness. With an unconvincing climax and overstuffed second half, the con drama turns out to be a bore. Too many subplots and too many twists have burdened the experience.
Bottom line: Overboard Plays
New App Alert: All OTT Apps & Release Dates Under One App
.