Denise Marquez finished washing Mikaela Stewart's hair and sent her client to a hairstyling chair beside a nearby window on the first floor of the shiny new Workforce & Emerging Technology Building at Weatherford College.
The cosmetology student paused to reflect on the career path she is pursuing in a department that found its promised land this semester.
"Sometimes when you're cutting hair, sometimes it might not go your way," Marquez said. "Because, you want it to come out how they like it. So, patience is very important here — and organization."
Marquez came to the college's Cosmetology and Barber School after leaving high school in Azle indecisive about her future. A childhood friend, though, had a sister who went through the cosmetology course, and that inspired Marquez to give it a whirl.
"You know what?" she recalled. "Maybe I can learn to do that, and make myself presentable and maybe make other people presentable, too. … Here, they're trying to teach me what I need to do to get where I need to be."
That would be a local wax studio, where she will ply skills she's acquiring in a department which offers 18 specialties that fall under the cosmetology umbrella — nail technician, makeup artist, wedding and event stylist, to name a few, plus barbering in the summer .
Inside a spacious main instruction room, which is adjoined by manicure/pedicure and a skin care lab, students chatted with clients seated beneath barber cloths. Student Christine Hancock found herself answering as many questions as she asked as she gave Anthony Bigongiari a trim, which likely is natural when a campus police chief is in the chair.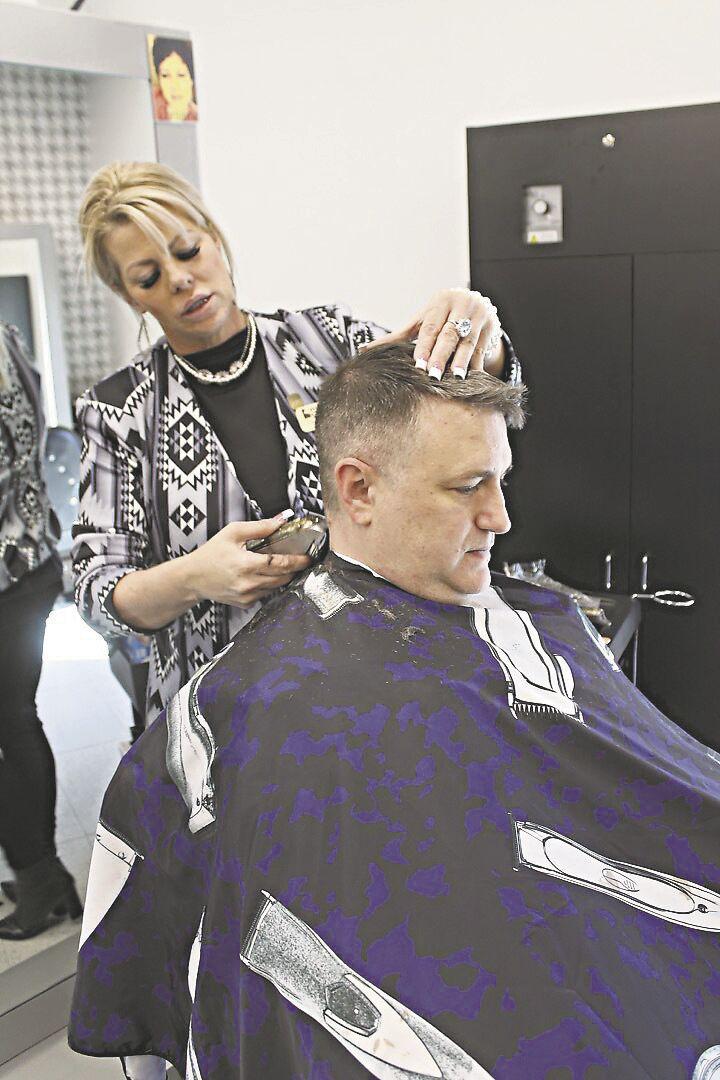 "Do they help you with job placement?" Bigongiari asked, which drew an enthusiastic, "Oh, yeah-yeah-yeah" from Hancock, who will be a third-generation hairstylist when she leaves campus.
"It's sort of an intimate thing," she said. "People like to tell their hairdressers, just, stories. We are a service industry, so it's the intimacy of talking about what they're doing. It's always about the client and what they need. And having that rapport with them, it adds to the experience."
It's been an experience for the department just getting here. Based for years in a former helicopter hangar at Fort Wolters in Mineral Wells, the class of 45 began the fall semester by learning the air conditioning was out.
"It was August, it was hot," Cosmetology and Barber Director Valerie Hopkins said. "It was awful. So, I went ahead and took roll that morning and let everyone go home."
No suitable space was available yet on the campus in Weatherford, so as the glass-walled Workforce & Emerging Technologies Building went up the class set up shop in an old ag building across the interstate off South Main Street.
"We called it the Beauty Barn," Hopkins said.
The move from Mineral Wells was a family affair, with the students earning skin in the game by helping load the U-Haul Hopkins rented.
"They were like in a big, long train. They just passed it down," she said. "From Day One, they have been absolutely amazing."
Cosmetology shares the Workforce & Emerging Technologies Building with Texas Workforce Solutions and cyber security courses on the second floor and administrative digs on the third.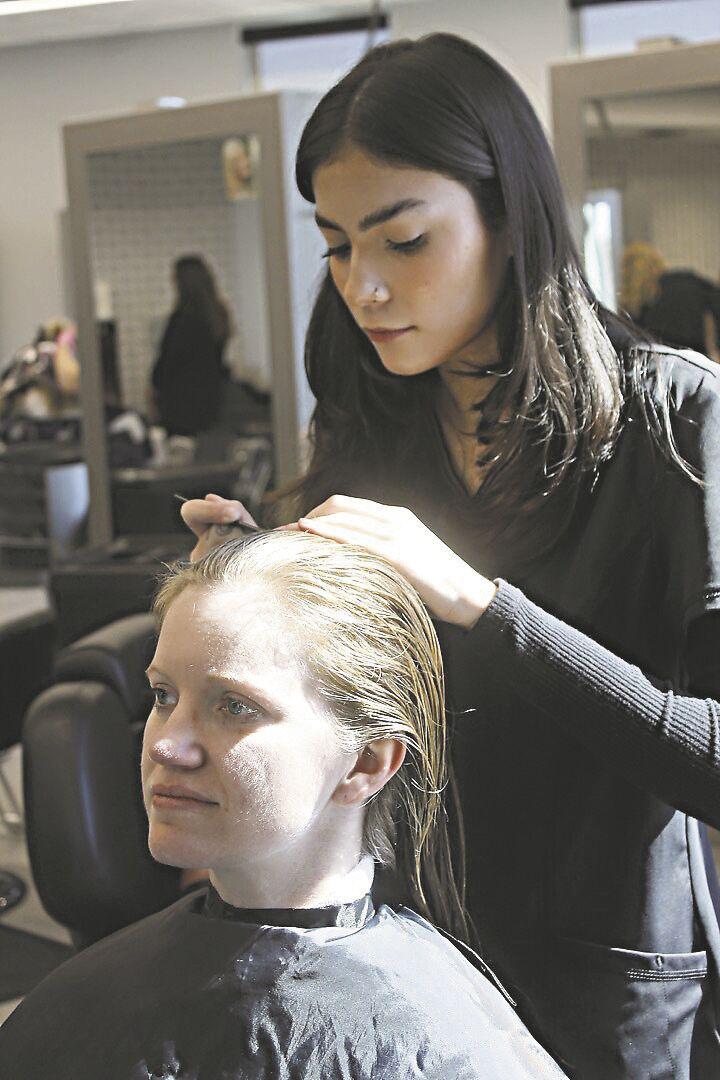 "In 10 years, I want to have the whole building — all mine," Hopkins said.
Hopkins grew up in Santo, cutting her cosmetology chops in a Mineral Wells salon at the feet of her hairstyling mother, Colleen Walker. Walker eventually came to Weatherford College as a hairstyling instructor, and eventually ran the department. Hopkins arrived in 2007.
"I never thought about being a teacher," she said. "It never crossed my mind. And one day, a woman friend of my mom, very Christian, came to me and said, 'You were meant to teach.' I am forever wounded."
Now, those students just call her "Miss Val," and many stay in close touch from wherever they've gone.
"A lot of them are here, local," she said, before showing a phone photo of a baby sent by a student now working in the Hill Country city, Marble Falls.
The students who place themselves in the hands of Hopkins, and her staff of one full-time and one part-time instructors, come from well beyond Weatherford, too — Granbury, Stephenville, Aledo and the communities of Palo Pinto County.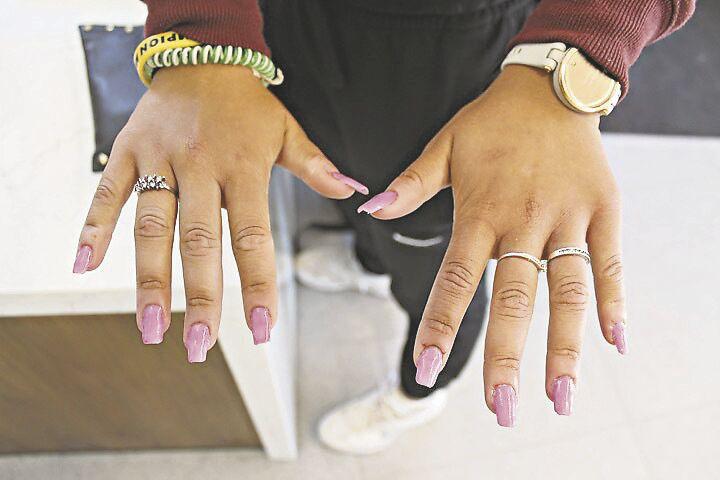 "Now that we're here in Weatherford, I feel like we'll draw more of the Metroplex students," Hopkins said. "I love my college, and I love what I do. These students, I call them my kids. And some of them are older than me. We're family. …I have a lot of kids and grandbabies."
One of those kids dropped in while she spoke.
"Are you loving your office?" Madeline Moore asked, probably knowing the answer.
"Do you love it?!" Hopkins replied enthusiastically.
Moore, whose father, Christopher Moore is a hairstylist in Aledo, told Hopkins she and the staff — plus, her dad — have furnished her with the tools of success.
"Y'all definitely pushed me," she said, turning to a visitor. "She really pushed me. She and my dad pushed me and believed in me."
And she remembered her first customer at the college.
"I was like, 'No, no, Miss Val.' And she was like, 'You can handle it.' And I did," she said.
She doesn't seem to be alone.
.