A Ukrainian mayor and her family were reportedly killed in an "execution style" slaying by Russian troops before being thrown into a pit in a forested area, a local resident told the Associated Press on Sunday.
Olga Sukhenko, the mayor of the Ukrainian town of Motyzhyn, which is located near Kyiv, was allegedly shot alongside her husband and son for refusing to comply with Russian demands, the AP reported. The resident who spoke to the news outlet was identified only as a man named Oleg for security purposes.
Oleg told the AP that Russian troops targeted local officials across Motyzhyn and murdered those who did not cooperate. After the mayor and her family were shot, the man said they were thrown into a pit behind a plot of land that contained three houses that Russian forces occupied.
Prior to Oleg's account, Sukhenko and her family had been reported as kidnapped by Russian forces on March 23, the AP noted. Ukrainian Deputy Prime Minister Iryna Vereshchuk confirmed the mayor's murder to the news outlet on Sunday, and said there are currently 11 other mayors or community leaders being held in Russian captivity across Ukraine.
The reported killing comes as Russian forces have been accused of committing brutal war crimes against Ukrainian civilians this weekend. Ukrainian officials said the bodies of at least 410 civilians were found strewn across the Kyiv region after Russian troops withdrew from the area, according to the AP.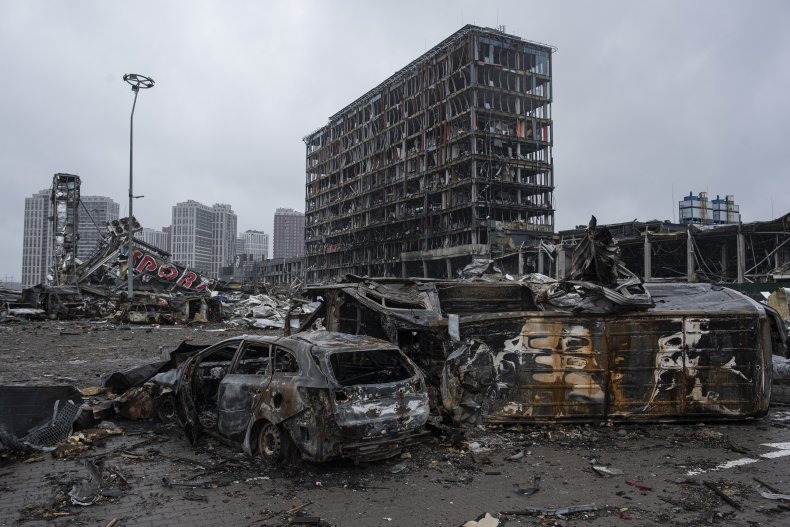 Ukraine's defense ministry accused Russian troops of massacring civilians in Bucha, a town located northwest of Kyiv. Graphic images have shown corpses with their hands tied behind their backs, while dozens of bodies were found in yards, cars and alongside streets.
A report from Human Rights Watch, a global advocacy organization, also accused Russian troops of raping and torturing Ukrainian civilians as well as looting. Russia, in turn, has denied it committed any war crimes, and has described the disturbing footage of dead bodies as a "provocation" and a "staged performance" by Ukraine, Reuters reported.
The United States and other Western officials have since condemned Russia's actions, with several lawmakers calling the reports "barbarous" and "horrifying," while demanding further sanctions against Moscow. Ukrainian President Volodymyr Zelensky said Sunday that Russia's actions are akin to "genocide," telling CBS News that the country is attempting to destroy and exterminate his people.
Charles Michel, the president of the European Council, tweeted on Sunday that he was "shocked by haunting images of atrocities" committed by Russian troops, and announced that more European Union sanctions against Moscow "are on their way."
The war in Ukraine is set to enter its sixth week of fighting. So far, Russian troops have been met with fierce Ukrainian opposition and have failed to capture any major city. However, the war has lead to widespread devastation across cities and villages, and has forced millions of Ukrainians to flee their homes, according to the United Nations.
Newsweek contacted Ukraine's foreign ministry for additional comment, but did not hear back in time for publication.