Here's Nick Ames' match report.
Rangers' Scott Arfield speaks to BT Sport.
A bit different, at times it was like a basketball game, two teams trying to win it. We take it back to Ibrox and we feel we can win this game, every time you come against this calibre. they are going to be good. They made it difficult, they created overloads. I feel like we can win this tie. The fans traveled in numbers, we will have 45,000 behind us. It was always going to be difficult, it's only half-time. Morelos is a big player, there's no doubt. Everyone needs to adapt, he's a big miss. It's all about us playing to each other's strengths, Alfredo can't play until end of the season. He can't help us. There's no doom and gloom, we've set it up for next week.
16:58
Full time: Braga 1-0 Rangers
Back to Ibrox it goes, and with such a slim advantage for Braga then Rangers must fancy they can find a way back. For much of the second half they were the better team and will have their home crowd behind them. 1-0, under the new rules, with no away goals, is a decent result. The seedlings are not out of reach.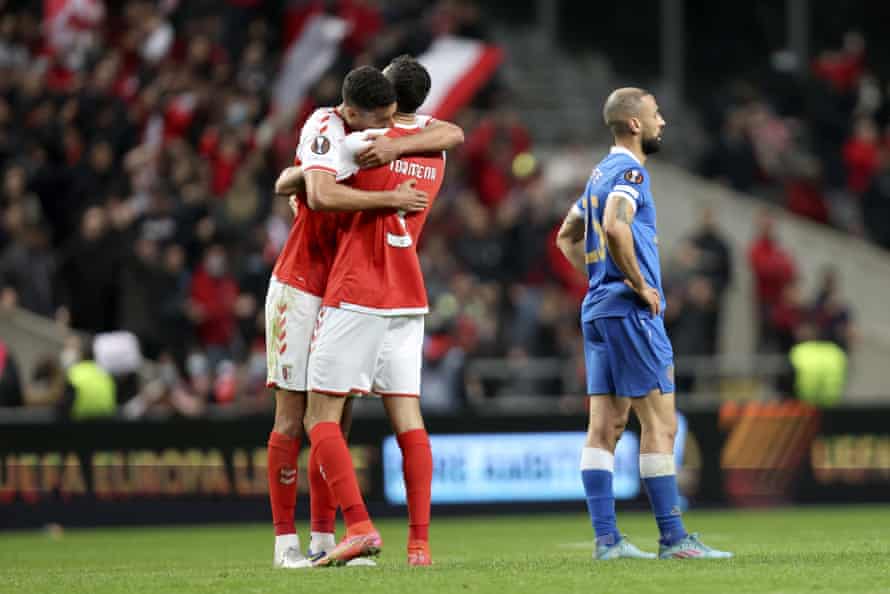 90+3 mins: One last push from Rangers, getting it launched down the Braga end before the full-time whistle goes.
90+2 mins: Rangers the better team for the last 20 minutes or so, with Braga's youngsters tiring. They have missed Morelos's finishing and devilment in attack, though.
90 mins: Three minutes added on as Rangers force a corner, one that almost lands at the feet of Goldson who shapes to shoot before a pile of Braga bodies get in the way.
89 mins: Goldson's cute header at the back post sets up a set of shots at the Braga defence, the ball pinging around before the keeper claims with some relief.
88 mins: Kamara and Aribo try to link in midfield, but the ball goes back to Bassey before Roofe is fouled, right on the edge of the box, Carmo made the foul, having already been booked. He escapes a second yellow.
86 mins: Lundstram surges on for Rangers but his pass to Arfield is poor, just like so much of Rangers' passing game this weekend.
84 mins: Still no Ramsey. His stay at Ibrox is reaching the level of oddity.
81 mins: A break in play as there's some cramp in the Braga ranks. A long break, too, before Andre Horta comes off. Mineiro on, as Al Musrati comes off and Castro comes on.
79 mins: Braga happy to settle for 1-0? Carlos Carvahal always struck as a coach who liked to attack, so perhaps not.
77 mins: Ohrta and Horta, the Braga brothers, link up, and Rangers have to get bodies in the way to block them off, eventually Andre Horta shoots and Allan McGregor knocks the ball behind to take the safety option.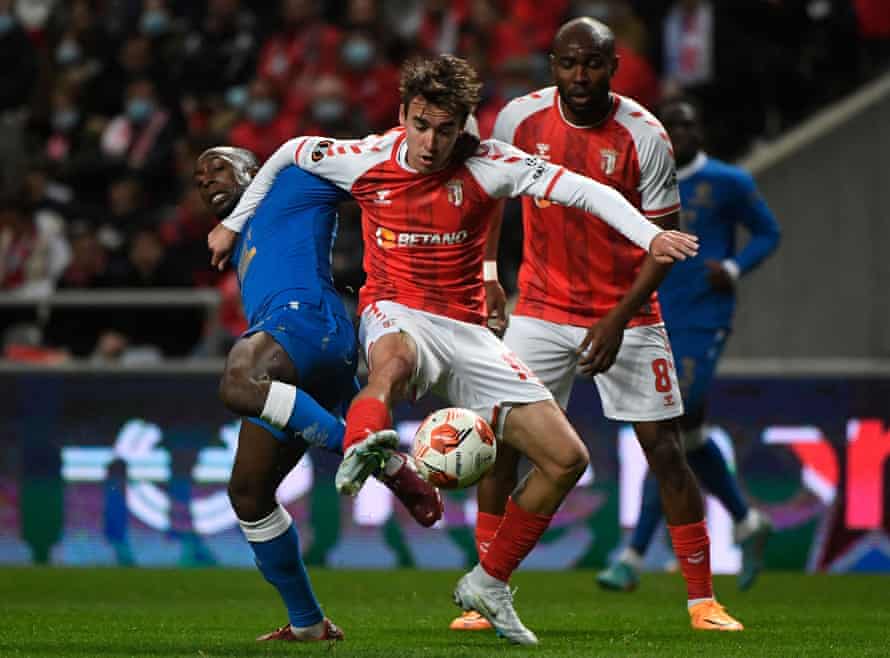 75 mins: Braga change: off go Medeiros and Ruiz, Miguel Fale and Vitor Oliveira on, Vitinha for short.
73 mins: Braga no longer quite so fluid as before, and Arfield gets to the byline, and Roofe steps out and decides to take it first time, only to smash the ball into the direction of that great bit sea cliff. He might have taken a touch there, anything but that. He was attempting a volley Marco van Basten would have baulked at attempting.
71 mins: Close for Rangers! Bassey makes Beckenbauer-esque surge from defense that sets up a Rangers attack, and Arfield forces a corner, and Tavernier will take it. It swings across goal, and Goldson is there to head it. And he misses the target! Had to do better.
69 mins: Roofe complains that he is manhandled as he chases down the channel. It's been lone furrows for the Rangers forwards for much of the game.
67 mins: A glimmer for Braga, Gomes cuts in from the left and wings in a shot that lands in Allan McGregor's midriff.
66 mins: Lundstram's long ball is aimed for Aribo is cleared away. But it's been a better half so far from Rangers, even if they are lacking the quality to make much of an impact on Braga.
64 mins: Early involvement for Roofe, but he slips on to Aribo's pass and handles it as he falls in the box. There's a very weak attempt to claim a penalty.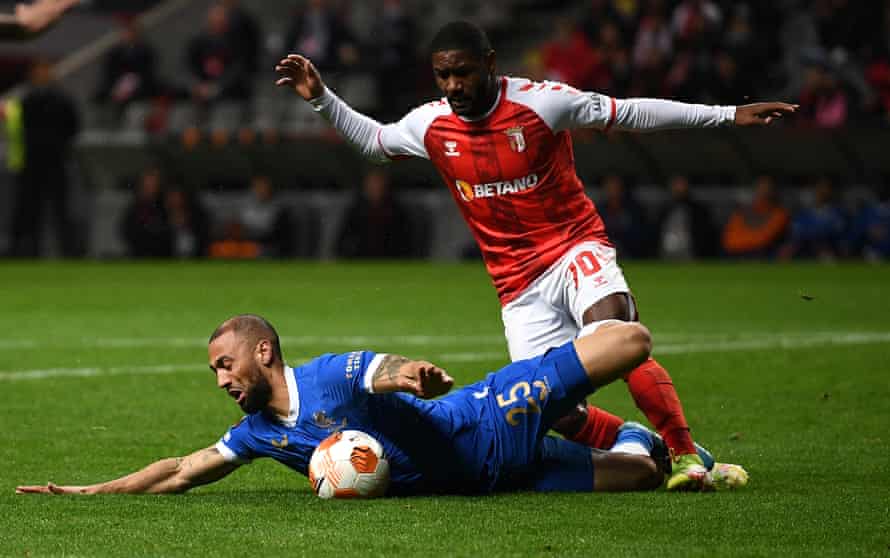 62 mins: And here they come, how might they affect the play now that Rangers have come back into the game? On come Barisic, Roofe and Aribo, off come Balogun, Sakala and Jack. A reshuffle is in place and each of those players have not had the easiest nights.
60 mins: Rangers changes imminent is the word…
59 mins: Braga try to re-establish dominance but Rangers have regained their shape, and kept it tight. Braga are reduced to passing the ball around in non-dangerous areas.
57 mins: Arfield tries to charge down Matheus but ends up being tricked by the goalie, not that it won't have sent shivers down the spine of Braga's fans. It was risky. Fabiano also fouls Kamara, and that results in a free kick that comes to Arfield to swing at. The ball is cleared away. Rangers with momentum? Possibly.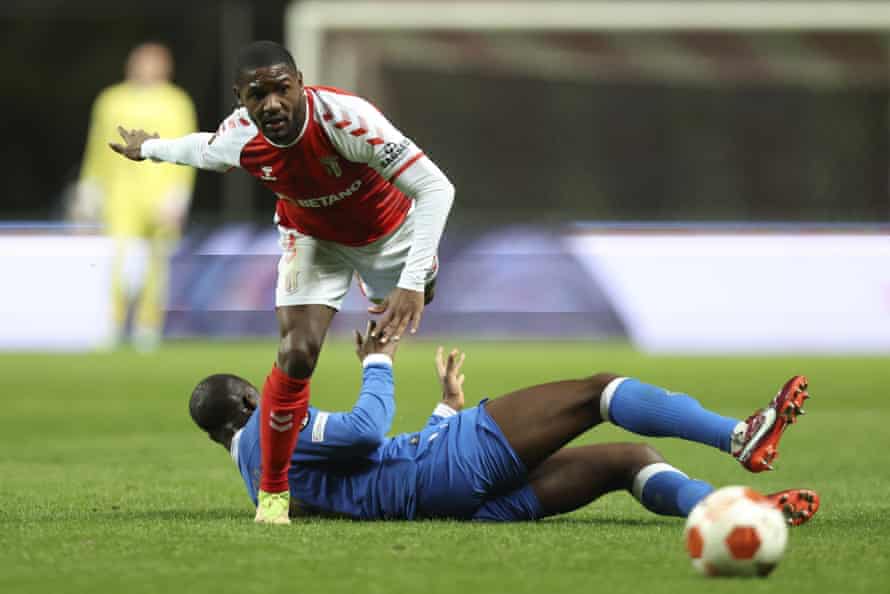 55 mins: From nowhere, Rangers get a corner, and Tavernier must do better with this one. Abel Ruiz climbs highest to head clear for Braga.
54 mins: Couto continues to cause havoc, and Rangers continues to struggle get the ball clear and up. They are defending well at the moment but need to maintain their concentration.
52 mins: Kamara is trying his best to get on the ball but Rangers are struggling to make the ball stick at the moment; nobody is holding it for long. That sets up myriad Braga attacks, and allows them to control possession.
50 mins: Lundstram forces the ball down the field, with Braga pushing hard on to Rangers players. It feels like there are more Braga players on the field at the moment.
48 mins: Medeiros, Couto and Orta carve some pretty patterns with their passing; Braga are a quality outfit. Couto, who is giving the Rangers left flank a terrible chasing, wins a corner, though one cleared easily.
46 mins: Back away we go, no Rangers changes, no Aaron Ramsey. You remember him, Aaron Ramsey, good for Wales.
15:53
Halftime: Braga 1-0 Rangers
After starting so well, Rangers began to cough up chances and having escaped a VAR-assisted goal, Abel Ruiz struck. In the dressing room, Gio has work to do to work out how to prevent those pacy counters. There is potential gold amid Braga's shaky defense if Rangers can step forward a bit more.
45+3 mins: Gomes, clearly feeling better, speeds past Tavernier then Kamara, showing off what is a clear talent.
45+2 mins: Arfield, Jack and Lundstram are chased down in the corner. Braga's energy is winning out here.
45 mins: Rangers build up an attack then ends with a John Lundstram shot, only for an offside flag to be waved. Four minutes added on to this half.
44 mins: Braga are a man down as Gomes has taken a knock jumping up for the ball on the touchline. He'll be OK to continue but takes his time.
42 mins: Braga had come more and more into it, finding space down the wing, with Couto against Kent something of a mismatch for Kent's defensive capabilities.
15:43
Goal! Braga 1-0 Rangers (Abel Ruiz, 40)
Poor defending from Balogun, who sticks out a leg as a pass from the excellent Couto finds the striker who smashes it beyond Allan McGregor and in. No VAR this time, a fine goal but one that could have been far better defended.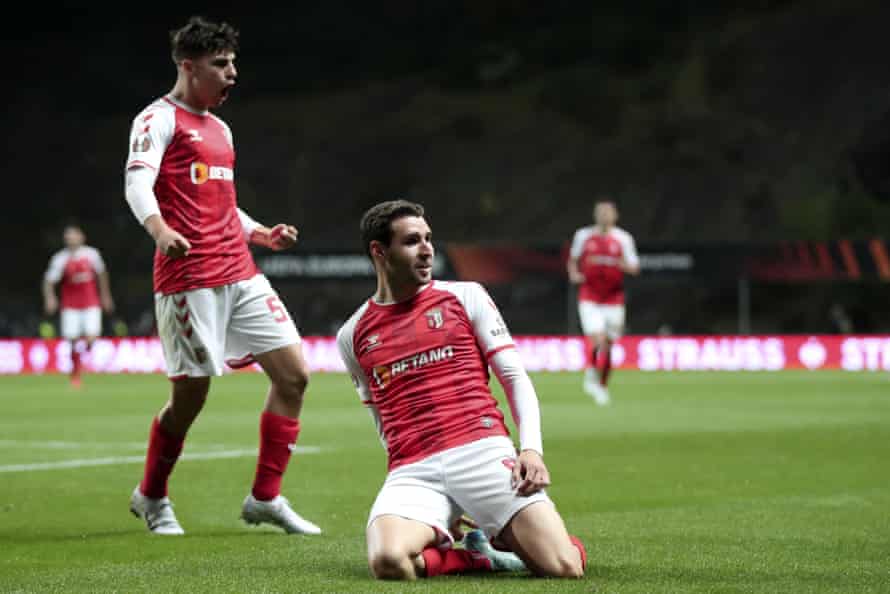 39 mins: Rangers sitting back a little bit more, and having to be wary of the excellent Couto.
37 mins: A break in play as Ryan Jack takes a knock. He looks a tad roughed up.
36 mins: Matt Burtz is in: "I'm aware that Max Rushden describes you as music hipster, but what's wrong with Def Leppard? Personally, I could usually use more Def Leppard in my life."
Nothing, I had Pyromania on just this morning. Great band, nice blocks, proper Sheffield. I saw them promote When Love And Hate Collide at Bramall Lane in 1995, hence the reference.
34 mins: Zakala turns Tormena and has time and space to shoot. He wastes what is his best chance so far. The Braga defenders are not the quickest.
32 mins: Ryan Kent scampers away, and looks to have found his way through, only for Couto to quell the danger. Yan Couto, by the way, is on loan from Manchester City, having already played for sister club Girona.
31 mins: Braga forces a corner from one of those wildcat attacks but Rangers scramble it clear, looking far less sure of themselves as they did 15 minutes ago or so. Ricardo Orta is a growing force in this game, as are Medeiros and Couto.