Sunscreen is the non-negotiable skincare product to keep in your daily skincare routine. However, most people often forgo the daily part and only apply it when the weather gets warmer or they're heading to the beach. It's never too late to make a change though. We like to consider sunblock a skincare warrior against free radicals and UV rays since sun exposure can cause premature aging, including developing wrinkles, sun spots, and sagging.
With all of the sunscreens on the market these days, some may find it difficult to choose the best one for their skin, but fear not: our editors have you covered. Below, Coveteur staffers share the tried-and-true sunscreens they wear by.
Eryfotona Actinica
This fast-absorbing, all-mineral sunscreen is my holy grail, can't-live-without-it product. If I'm in a rush, I'll even forego moisturizer and opt instead for a large dollop of this wonderful emulsion. From a texture perspective, it's light enough to wear under makeup but also strong enough to stand alone for even the most intense of outdoor workouts. Bonus: The formula contains DNA DNA Repairsomes®, which are naturally occurring enzymes clinically proven to repair existing sun damage.
isdin
Unseen Sunscreen SPF 40
I recommend this sunscreen all the time. The clear gel formula blends right into your skin, it won't leave behind a white cast, and it doesn't feel heavy when layered over skincare products or applied underneath makeup. Plus, it's formulated with ingredients like jojoba oil, giving you a dose of hydration without a trace of grease or shine.
Supergoop!
No. 38 Mr.
The Habit 2-in-1 Mister is one of my favorite recent discoveries. The product works to both protect and hydrate by delivering SPF 38 in an even mist with a cucumber scent and a luxe feel. I've incorporated it as the last step of my routine as it doesn't disrupt makeup and leaves a dewy glow, serving as the perfect finisher. It's the first sunscreen I've ever looked forward to applying!
Habit
Moisturizing Sunscreen Lotion SPF 30
I first came across Black Girl Sunscreen while rifling through my mom's medicine cabinet (thanks, mom!). Before this dethroned my former SPF, I thought that an unsightly white cast was just par for the course with sunscreens, but this completely changed my POV with it's ultra-sheer, glowy finish. My skin feels supple and hydrated after slathering this on and it doesn't budge when it comes into contact with water, which earns it a permanent spot in my vacay skincare lineup. This is unscented, and although I do miss that signature sunscreen scent (am I the only one who actually loves that?) I'm happy to part ways with streaky white residue that most SPFs leave behind.
Black Girl Sunscreen
Play Everyday Sunscreen Lotion SPF 50 PA++++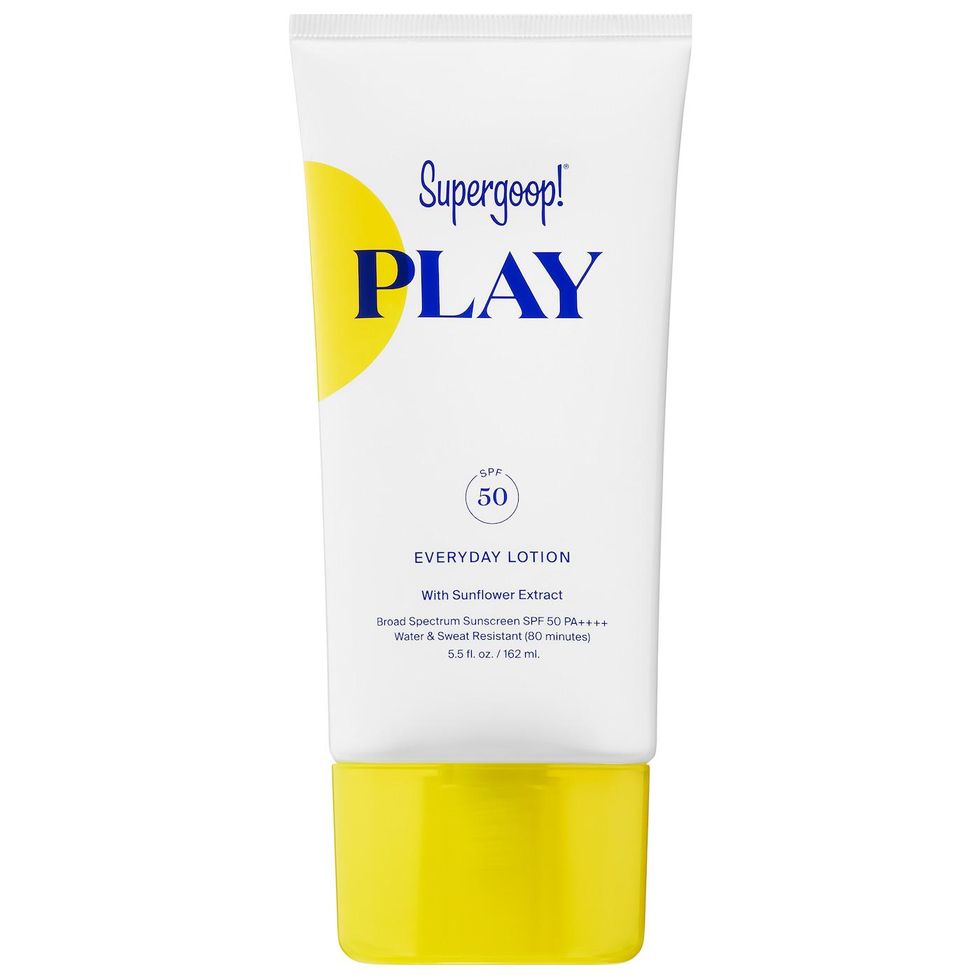 For years, I would dread applying daily sunscreen because I'd be left looking even paler than usual thanks to the leftover white residue on my skin. That changed when I tried Supergoop!'s PLAY Everyday Sunscreen Lotion, and I've been a Supergoop! loyalist ever since. I prefer the "PLAY Everyday Sunscreen Lotion" over the brand's "Unseen Sunscreen" because you can still see where you're applying the sunscreen rather than rubbing it in blind, so to speak. Aside from using this non-greasy, sweat-resistant sunscreen on my face, I love using it on my neck, hands, and arms as well!
Supergoop!
Clear Sunscreen Stick SPF 50+
I picked this up a few weeks ago, and I haven't put it down since. The scent is not too strong, and the clear stick doesn't leave a white cast. It's absolutely perfect for reapplying on the go. And maybe I'm a sucker for good packaging, but I love that this is flat so it's great to throw into my bag. I swipe this sunscreen all over my face, neck, hands, and around my nails—especially after a well-deserved manicure—to protect from harmful rays.
Shiseido
window.REBELMOUSE_ACTIVE_TASKS_QUEUE.push(function(){
var makeMonitor = (getStatus, cb, delay) => { delay = delay || 100; var monitor = () => { var time = +new Date(); var status = getStatus(); if (status) { return cb(status); } else { if (!stopMonitor && +new Date() - time < 30 * 60 * 1000) { monitorId = setTimeout(monitor, delay); } else { cb(false); } } }, cancel = () => { stopMonitor = true; clearInterval(monitorId); }; let monitorId, stopMonitor = false; return { start: monitor, cancel: cancel, }; };
var leftArrowCarrousel = makeMonitor( function () { return document.querySelector( ".shop-sidebar.shop-posts .posts-wrapper .slick-next" ); }, function (res) { res.addEventListener("click", () => { gtag("event", "Left Arrow Click", { event_category: "Shopping Module", event_label: "Previous product at carrousel", }); }); } );
leftArrowCarrousel.start();
var rightArrowCarrousel = makeMonitor( function () { return document.querySelector( ".shop-sidebar.shop-posts .posts-wrapper .slick-prev" ); }, function (res) { res.addEventListener("click", () => { gtag("event", "Right Arrow Click", { event_category: "Shopping Module", event_label: "Next product at carrousel", }); }); } );
rightArrowCarrousel.start();
var buyButton = makeMonitor( function () { return document.querySelectorAll( ".shop-sidebar.shop-posts .posts-wrapper .widget__product-buy-link-btn" ); }, function (res) { for (let button of res) { button.addEventListener("click", () => { gtag("event", "Buy button click", { event_category: "Shopping Module", event_label: `${button["href"]}`, }); }); } } );
buyButton.start();
var imageShopp = makeMonitor( function () { return document.querySelectorAll( ".shop-sidebar.shop-posts .posts-wrapper .widget__head a" ); }, function (res) { for (let image of res) { image.addEventListener("click", () => { gtag("event", "Image click", { event_category: "Shopping Module", event_label: `${image["href"]}`, }); }); } } );
imageShopp.start();
var productTitle = makeMonitor( function () { return document.querySelectorAll( ".shop-sidebar.shop-posts .posts-wrapper .widget__headline .widget__headline-text" ); }, function (res) { for (let product of res) { product.addEventListener("click", () => { gtag("event", "Product title click", { event_category: "Shopping Module", event_label: `${product["href"]}`, }); }); } } );
productTitle.start();
});
window.REBELMOUSE_ACTIVE_TASKS_QUEUE.push(function(){
window.REBELMOUSE_STDLIB.loadExternalScript("https://s.skimresources.com/js/150311X1615657.skimlinks.js", function() {
});
});
window.REBELMOUSE_ACTIVE_TASKS_QUEUE.push(function(){
!function(f,b,e,v,n,t,s){if(f.fbq)return;n=f.fbq=function(){n.callMethod?n.callMethod.apply(n,arguments):n.queue.push(arguments)};if(!f._fbq)f._fbq=n;n.push=n;n.loaded=!0;n.version='2.0';n.queue=[];t=b.createElement(e);t.async=!0;t.src=v;s=b.getElementsByTagName(e)[0];s.parentNode.insertBefore(t,s)}(window, document,'script','https://connect.facebook.net/en_US/fbevents.js');fbq('init', '1248680838922690');fbq('track', 'PageView');
});
window.REBELMOUSE_ACTIVE_TASKS_QUEUE.push(function(){
window.REBELMOUSE_STDLIB.onElementInViewport({ threshold: 400, selector: "video", oneTime: true, onIntersect: function(entry){ var element = entry.target; element.setAttribute("allow","autoplay"); element.loop = true; element.muted = true; element.autoplay = true; element.setAttribute("playsinline","true"); //element.controls = false; element.play(); } });
});