Spider-Man: No Way Home saw the return of more than half a dozen characters from past Spidey blockbusters, including Willem Dafoe as the original Green Goblin from 2002's Spiderman. After Tom Holland battled Michael Keaton's Vulture and Jake Gyllenhaal's Mysterio in his first two outings, Dafoe brought a new level of fear for the young hero in his third MCU solo appearance.
The man behind the Green Goblin made his mark on the world of superhero movies with No Way Home, setting the record for the longest Marvel career in history, alongside his Spidey co-star Tobey Maguire. Even more impressive was that Dafoe took the opportunity to deliver an even more revered performance this time around, especially after ditching the mask he wore for his first movie 20 years ago.
WARNING
That performance largely came through alongside Holland, as the MCU's Spidey and the Goblin engaged in some of the most brutal physical battles seen in any live-action Spider-Man movie. Now, a new behind-the-scenes look at one of those fights shows just how scary it was, even for the actors involved in making it.
Dafoe Freaks Out Holland in Spider-Man Fight
Screen Rant released a behind-the-scenes look at the first fight between Tom Holland's Spider-Man and Willem Dafoe's Green Goblin from the set of Spider-Man: No Way Home. This featured interviews from the film's crew sharing their excitement for this sequence.
The full video can be watched below:
WARNING
Stunt Coordinator George Cottle described the scene as one of his favorites in the entire movie, largely due to seeing just how strong and resilient Dafoe's Green Goblin is against the web-slinger:
"One of my favorite sequences in the whole movie. The Green Goblin is super strong, and he can take the abuse and the violence from Spidey, so that was a really interesting and exciting avenue for us to explore."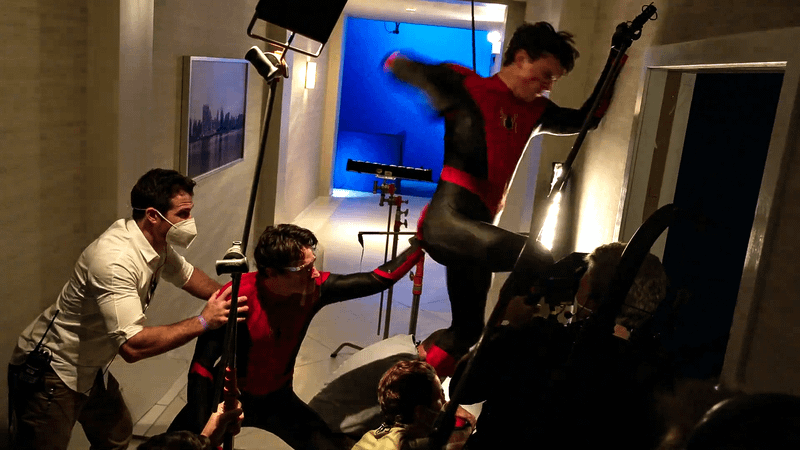 Along with Dafoe and Holland doing many of their own stunts, Spindell looked at how the team wanted to make their fight truly violent by "going through walls" and "going through floors" in Happy's condo. This all added to just how "demented" Dafoe's Green Goblin was as he laid the smackdown on Peter Parker:
WARNING
"We wanted to make Spider-Man fight that was violent. He's going through walls, Goblin's going through walls, we're going through floors, and we just wanted to make it as big as it could be…Willem is a demented, evil character."
Cottle praised Dafoe for giving an incredible performance with the "reactions on his face," particularly noting the "Goblin laughs, the cackle" that he gives as Holland is beating him down.
"Spidey isn't doing so good in the fight, and he's got Goblin against the wall, and he's just giving him all he can, and Willem is just doing these incredible reactions with his face, and then just stops and gives the Goblin laugh , the cackle, and everybody on set just stopped. It kind of made your hair stand on end."
Fans even got a look into some of the on-set reactions from the moment itself, in which Holland exclaimed "Whoa, that was so scary!" after finishing his take with Dafoe.
WARNING
Dafoe and Holland Bring the Fear to Screen
Ahead of Spider-Man: No Way Home's theatrical debut, amongst the dozens of announcements and leaks surrounding the film, fans learned that it would include some of the most intense fights ever for Peter Parker. That report was quickly proven once the Goblin personality took over Norman Osborn in Happy's condo, but that was only the start of what fans would see between the MCU's star and Dafoe's classic antagonist.
The actor himself was also adamant about giving everything he could for his return to make sure he didn't wind up just being meme material or a glorified cameo. Scenes like this helped out exponentially in that endeavor, especially on top of the pair's final fight at the Statue of Liberty as Peter wanted to get revenge for May's death.
As the threequel makes the rounds in its digital release, Dafoe's performance is the cause of celebration for many fans as they revisit this movie's biggest moments and scenes.
WARNING
Spider-Man: No Way Home is now available for digital purchase.
FOLLOW MCU LIVE
.