The Protomen are among Middle Tennessee's longest-running musical acts, performing for nearly two decades with a rotating cast of costumed characters and doing things their own way. From Day One, the sci-fi-fanatic rockers have never followed any form of tradition.
Formed by a wiley bunch of MTSU music grads, The Protomen transcends the conventional vehicles of being a band. Even by cult standards, their approach has never been anything short of weird. While other bands were trying to figure out how to play Coachella or Riot Fest, The Protos were playing San Diego Comic-Con and Nerdapalooza. Ten years ago they recorded a live Queen tribute album, purely because it was something they wanted to do. They released the soundtrack LP to The Cover Up, a film that never existed. So after 19 years of doing the unexpected, they would obviously have to find a new idea that makes absolutely no sense at all: celebrating New Year's Eve on a random Saturday night in April.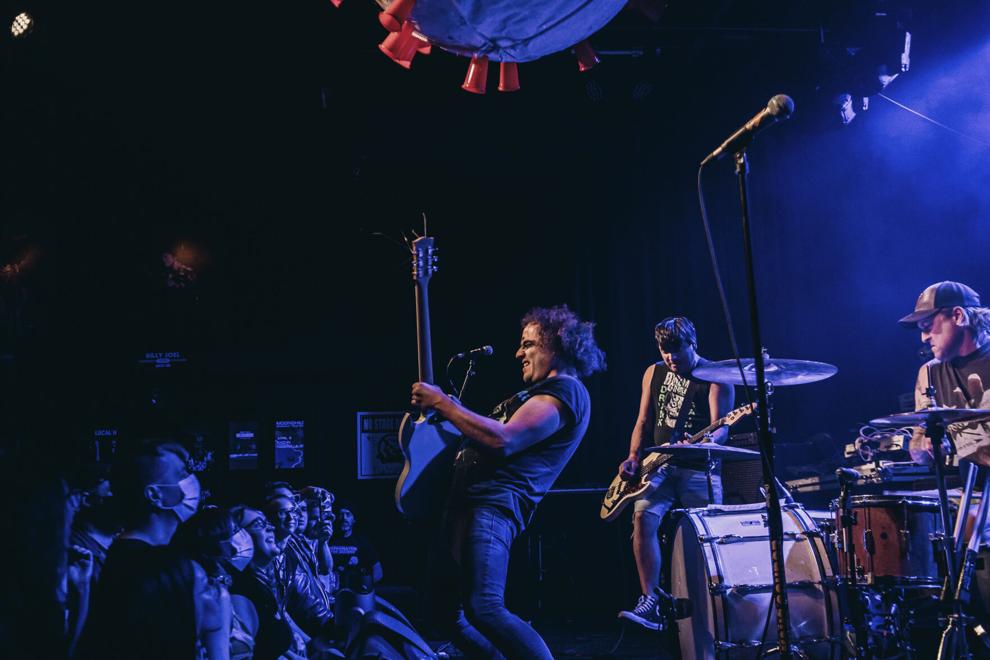 As I found my way through the door at the Exit/Inthe ear-damaging chaos of Hans Condor was already at full-tilt. I mean, if you're going to celebrate Dec. 31 on April 9, you may as well have a punk band fronted by a former cop open the gig, just to keep with the WTF theme of the evening. The filth-rock power trio, in all of its incarnations, has a knack for marrying '90s blues-punk with the 4/4 riffage of Bon-era AC/DC.
Makeup and Vanity Set provided a buffer between the PBR-guzzling snarl of the openers and the hyper-slick production of the headliners. The long-running, Proto-adjacent synth act falls in line with the darker side of cinematic dance music like Gost or Perturbator, but with a seductive velvety quality.
I've always liked standing near the wall opposite the bar when I'm at an Exit/In show as an observer. It feels like I get to watch everything that's going on — not just what's happening onstage, but the vibe of the room as a whole. I don't think I've ever been in a room with more vibe than Exit had on Saturday night. There was a fan with a homemade helmet, including a blast shield and horns. There were Protomen T-shirts in the crowd from all eras of the band, like you might see when watching Metallica at their peak. A few in the audience had painted their faces. Proto-maniacs had come from far and wide — some of them even purchasing plane tickets — to ring in the New(ish) Year with one of geek culture's biggest rock acts. It was a unique camaraderie of gamers and Funko Pop collectors.
But like any act that comes with a corresponding culture, the anticipation is all part of the show. For Protomen in particular, anticipation is essential. How many other bands start their show with an opening monologue from an iron-masked narrator? For those unfamiliar with their performances, I would urge you to click a few YouTube links to see what The Protos do — sort of a rock opera aimed at Nerdist podcast subscribers. And the band's legion of players is nearly virtuosic. Each portrays a different character in a post-apocalyptic drama, looking like they escaped from an '80s VHS cassette. And if their subtle nods to Reagan-era media wasn't clear enough, they throw in a cover of the Phil Collins mega-hit "In the Air Tonight" — The Protos' version appeared in the Netflix Karate Kid reboot, Cobra-Kai.
Throughout the night, I noticed a giant COVID-shaped piñata suspended from the ceiling. Just before the encore, a 10-minute timer started counting down on the stage. It didn't exactly countdown to midnight, but if you're already three months past New Year's Eve, what's a few more minutes? Just before the digital clock struck 0:00, the 6-foot piñata was smashed, scattering its fillings all over the Exit/In floor.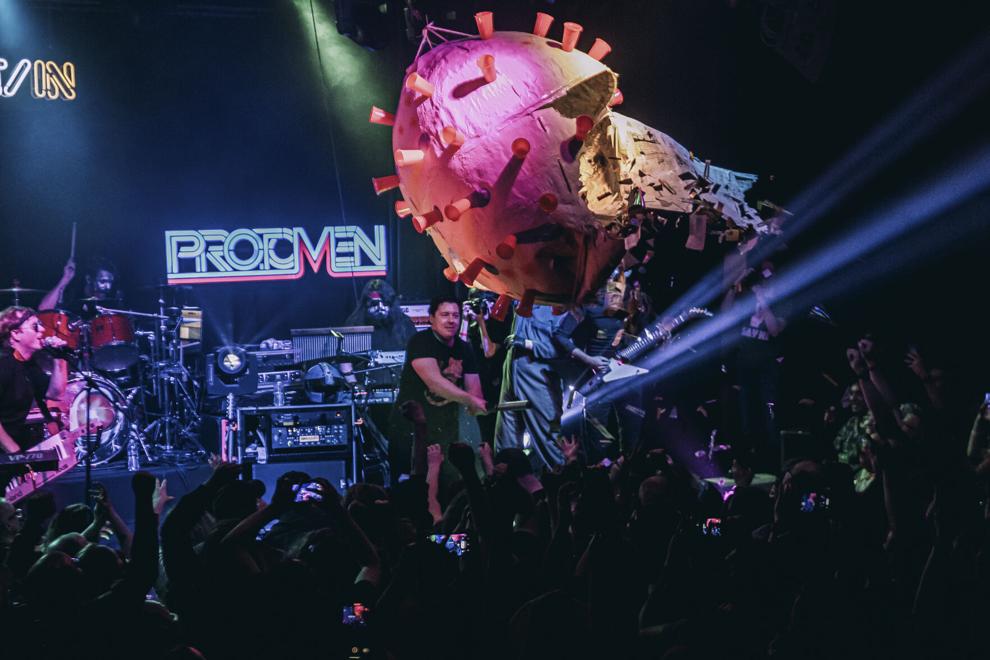 Fans went bananas, rabidly grabbing everything they could find falling from the enormous papier-mâché germ. I honestly believe they would've actually scooped up real oversized COVID-19 globules, had those been what fell out of the piñata. Meanwhile The Protomen emerged for one last round, giving fans another blast of the good stuff.
.