The Oscars evening last month was in the news for all the wrong reasons. The biggest evening for the film fraternity, it was a star-studded affair with well-known celebrities across the globe making their presence felt. Also in attendance were the Williams sisters, representing their film, King Richard, which received nominations in five categories for the Oscars. However, Will Smith, who was the lead actor in the King Richard film, was caught up in a controversial moment.
WARNING
Article continues below this ad
When Chris Rock cracked a joke on Will's wife, the latter stepped onto the podium and slapped Chris Rock. Will didn't take the joke lightly and vented out his anger at Chris. However, Will apologized for his actions later after receiving the Oscar for Best Actor.
WARNING
Article continues below this ad
The entire world expressed shock at this incident. Further, many celebrities expressed their opinions about this incident. Recently, American actor and filmmaker, Jason Momoa, opened up about Will's reaction.
DIVE DEEPER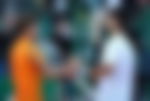 Jason Momoa feels Will Smith and Chris Rock will sort their Oscars controversy out
WARNING
Article continues below this ad
Jason was seated in the front row when Will stepped onto the stage and slapped Chris Rock. Talking about the incident, he said, "I was pretty shocked. I don't know. You just never know where people are at, you know? There's a tipping point for everyone, right? I've had my places. He can ask for forgiveness. Sometimes you're just sensitive. We're all sensitive. I'm not walking in his shoes, [but] I've definitely been in places like that."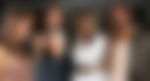 Further, he added, "It's just people, we're under a microscope. I don't know what really it was for him, be he's an amazing human being. Both of them. And they'll work it out."
WARNING
Article continues below this ad
WATCH THIS STORY: Will Smith Shows How King Richard Cast Trained Like Serena and Venus Williams
Like everyone, this incident left Serena and Venus shell-shocked, which they later expressed on social media. However, shortly after the incident, Will Smith won the Oscar and honored the Williams sisters' father, Richard Williams. Will even went on to thank Serena and Venus for giving him the opportunity to play the role of their father on the screen.