Marvel Studios prop master Russell Bobbitt says the Darkhold from WandaVision will play a larger role in Doctor Strange in the Multiverse of Madness.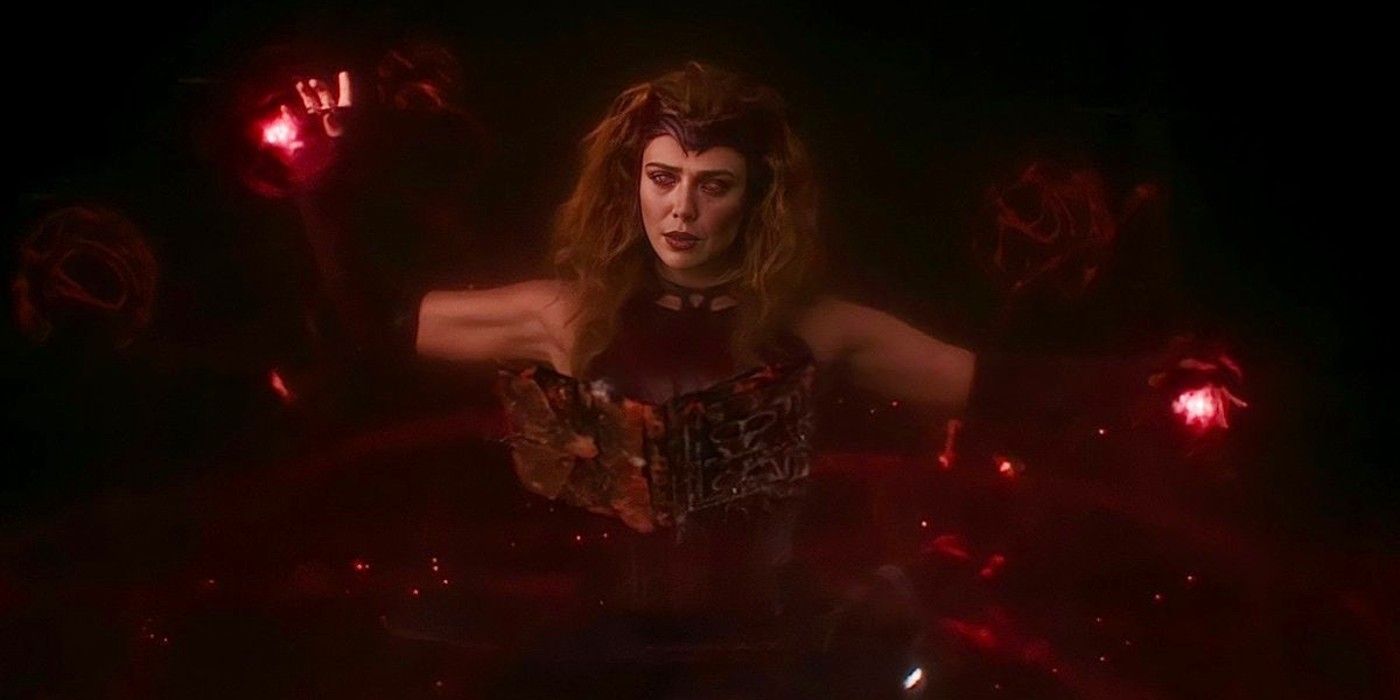 Russell Bobbitt, a prop master for Marvel Studios, explained that the Darkhold seen in Wanda Vision will play a major role in Doctor Strange in the Multiverse of Madness.
"The Darkhold book came from [Doctor Strange In the Multiverse of Madness' prop team]," Bobbitt said while appearing on The Phase Zero podcast. "How we weighed that out is, [we asked] 'Where is there more screen time for the [Darkhold]?' And story-wise, it was going to have a bigger say in [Doctor Strange 2] than ours did in our show. So yes, we did collaborate. We made those together. In fact, they made it for me, sent it to me, I used it and got it back to them."
RELATED: Doctor Strange 2 Promo Gives Away an Unexpected Scarlet Witch Team-Up
The Darkhold appeared in Marvel's Wanda Vision Disney+ series in the possession of Agatha Harkness (Kathryn Hahn) which she used to amplify her powers. However, following Agatha's defeat at the hands of Wanda Maximoff/Scarlet Witch, the Darkhold came to be in her possession instead and Wanda can be seen studying it in Wanda Vision's final episode.
While it's not clear the effect the Darkhold will have on Wanda's powers, co-producer Richie Palmer teased that Multiverse of Madness will determine just how powerful Scarlet Witch is. "I don't know who's more powerful than Wanda," Palmer said. "Meeting the Wanda Maximoff at the end of [Avengers: Endgame] would have been a lot for Strange. Who comes out on top as the most powerful being in the universe? Maybe we find out at the end of the movie."
RELATED: Scarlet Witch Is Ready for Madness in New Doctor Strange 2 Image
While Multiverse of Madness will confirm if Scarlet Witch is, in fact, stronger than Doctor Strange, Olsen herself added that she was "excited to do dialogue with [star Benedict Cumberbatch]," saying that she "really enjoyed [their] constant conversation, of analysis and trying to understand where both characters are coming from." Olsen wrapped filming on her Doctor Strange reshoots in September 2021.
Multiverse of Madness wrapped extensive reshoots in January 2021. The additional material was helmed by director Sam Raimi and Loki writerMichael Waldron. Following the success of Spider-Man: No Way Homeit was reported that Multiverse of Madness would have "more fun with the multiverse," with reshoots including even more cameos and character introductions than originally intended. Multiverse of Madness will pick up after the events of Spider-Man: No Way Home and tie directly into two of Marvel's Disney+ series, Wanda Vision and Lokiboth of which dealt heavily with the multiverse.
Doctor Strange in the Multiverse of Madness premieres in theaters on May 6, 2022.
Source: The Phase Zero podcast, via The Direct
How Five Night's At Freddy's Reshaped Indie Horror
Read Next
About The Author