Marvel officially confirms what Jane Foster's version of Thor in Love and Thunder will be called in the Marvel Cinematic Universe.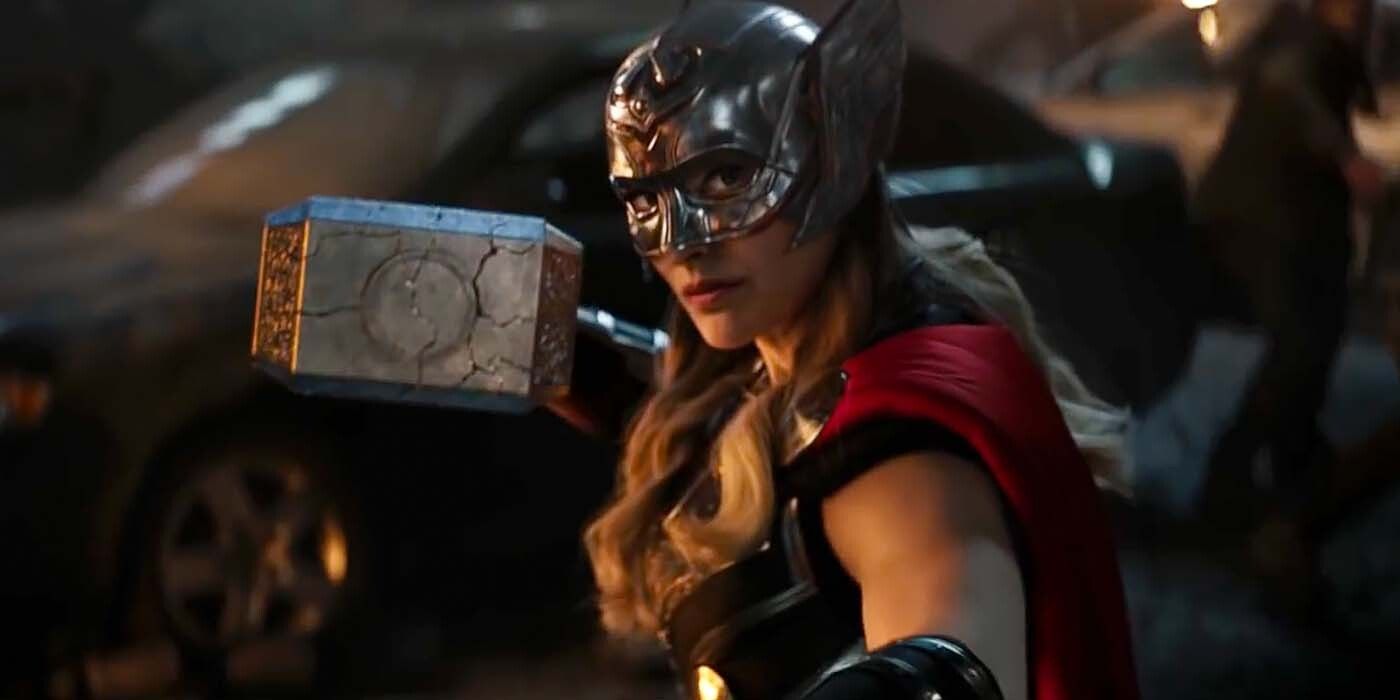 Marvel confirmed Jane Foster (Natalie Portman) will be called Mighty Thor in Thor: Love and Thunder.
Following the release of the first trailer for Thor: Love and Thunder, which shows Foster wielding Mjolnir and in her costume, Marvel put out a plot synopsis for the Marvel Cinematic Universe film. The plot synopsis officially calls Foster "Mighty Thor." Additionally, the press release for a Marvel Legends figure of Foster's God of Thunder refers to her as "mighty Thor." Both also confirm she indeed wields Mjolnir. You can see images of the Marvel Legends Mighty Thor figure, which ties into the upcoming movie, below. The six-inch figure features four accessories and a Build-a-Figure part. RELATED: Thor: Love and Thunder Trailer Welcomes Jane Foster's Goddess of Thunder
Created by Stan Lee, Larry Lieber and Jack Kirby, Foster first appeared in 1962's Journey into Mystery #84 and initially served as a love interest for Thor Odinson. However, 2014's Thor #1 saw Foster — who was suffering from cancer — picking up Mjolnir and gain the powers of Thor. In 2014, writer Jason Aaron, who helmed Foster's transformation into Thor, explained giving her the title without any caveats. "You pick up this book and it just says Thor on the cover," he said, "which features a new female version of Thor. It's pretty much telling you she's not She-Thor or Lady Thor. She's not Thorika. She is Thor. This is the new Thor." The epithet itself comes from mighty thor, a comic book series starring Foster as the titular character. After Foster sacrificed herself, the mantle of Thor later returned to Odinson. Since 2019's War of the Realms Omega #1, Foster has served as a new version of Valkyrie in the Marvel Universe.
Portman has played Foster in the MCU since 2011's Thor. She also returned for 2013's Thor: The Dark World. However, Portman did not resume her role for 2017's Thor: Ragnarok. The official explanation given for Foster's absence was that she and Thor broke up. At the time, Portman believed she was done playing Foster, but director Taika Waititi's new direction for the character is part of why she decided to return.
RELATED: Thor 4 Finally Reveals a Clear Look at Christian Bale's Villainous Weapon
Set following the events of 2019's Avengers: Endgame, Thor: Love and Thunder is the fourth movie in the God of Thunder's solo franchise. The film sees Thor looking for inner peace when he's interrupted by Gorr the God Butcher (Christian Bale), a villain looking to kill the gods. To defeat Gorr, Thor teams up with King Valkyrie (Tessa Thompson), Korg (Waititi) and Foster/Mighty Thor.
Thor: Love and Thunder is slated for release on July 8.
Source: Marvel Studios, Hasbro
First Thor: Love and Thunder Trailer Introduces the MCU's New Pantheon of Gods
Read Next
About The Author