A Marvel Legends figure for Thor: Love and Thunder reveals a clear look at Gorr's All-Black the Necrosword weapon.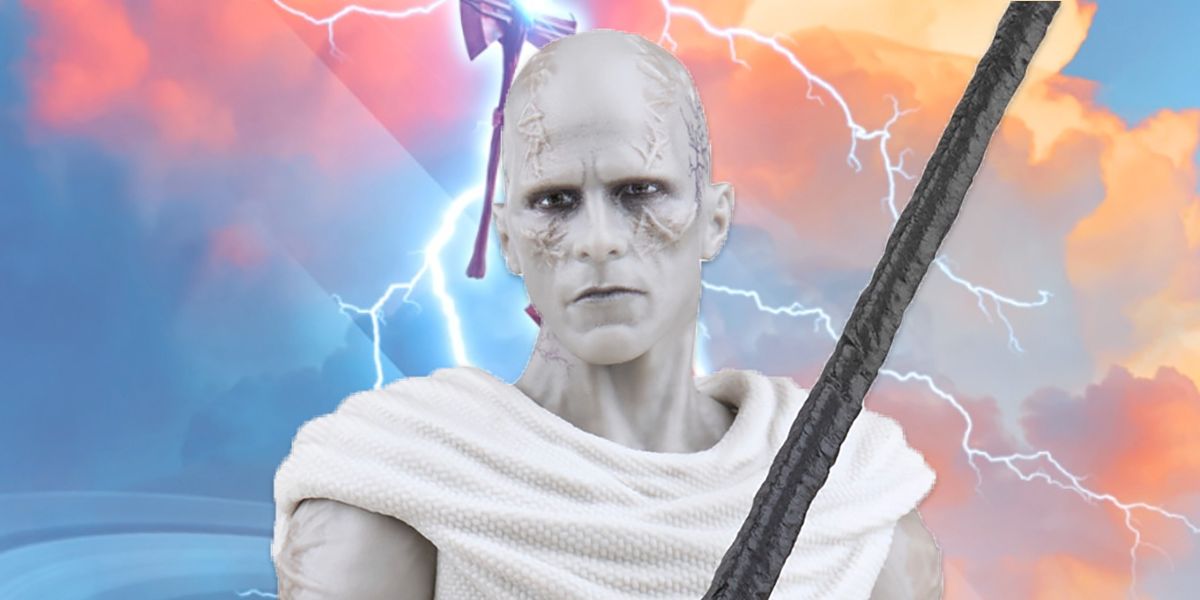 An upcoming Marvel Legends figure provides the best look yet at All-Black the Necrosword, Gorr the God Butcher's weapon in Thor: Love and Thunder.
A press release from Hasbro revealed the Gorr the God Butcher figure, which is part of a Marvel Legends toy line centered on Love and Thunder. The six-inch figure, which includes three accessories and a Build-a-Figure part, features accessories and items inspired by the film, including the Necrosword. You can see the images of the Marvel Legends Gorr figure, which will be available on April 26, below. It's also worth noting a piece of merchandise is not always necessarily reflective of the film from which it comes.
RELATED: Thor: Love and Thunder Trailer Welcomes Jane Foster's Goddess of Thunder
Created by Jason Aaron and Esad Ribic, Gorr first appeared in 2013's Thor: God of Thunder #1. After a terrifying childhood in which his people were not helped by their gods despite profound suffering, Gorr received All-Black the Necrosword and began killing off the gods in vengeance. Christian Bale will play Gorr in Love and Thunder. Artwork of Gorr on a Marvel Legends Build-a-Figure box leaked earlier this month, providing a look at the character in the film.
The Necrosword is an immensely powerful weapon and was created by Knull, God of the Symbiotes. The weapon is one of the deadliest in the Marvel Universe and greatly enhances the powers and abilities of its user. Using the weapon, King Thor — an older version of Thor Odinson — was even able to stand toe-to-toe Galactus, one of the deadliest beings in the Marvel Universe.
RELATED: Thor: Love and Thunder Turns New Asgard Into a Tourist DestinationThe official synopsis for Love and Thunder says the film will find Thor searching for inner peace. However. Gorr the God Butcher Interrupts that journey in his quest to kill the gods. This new threat requires Thor to get help from King Valkyrie (Tessa Thompson), Korg (Taika Waititi) and Jane Foster/Mighty Thor (Natalie Portman). At this time, it's not totally clear how Portman's Foster gains access to Mjolnir, as Hela (Cate Blanchett) destroyed the weapon in 2017's Thor: Ragnarok. Regardless of just how she gets the weapon, the first trailer for Love and Thunder recently showed Foster's Mighty Thor wielding Mjolnir and her new costume.
Directed by Waititi from a script by himself and Jennifer Kaytin Robinson, Thor: Love and Thunder is set to release on July 8.
Source: Hasbro
Thor 4 Plot Synopsis Officially Breaks Down the MCU Film's Story
Read Next
About The Author